A review from the Austin Trout vs Luis Grajeda fight last December 11, 2014 at California, USA.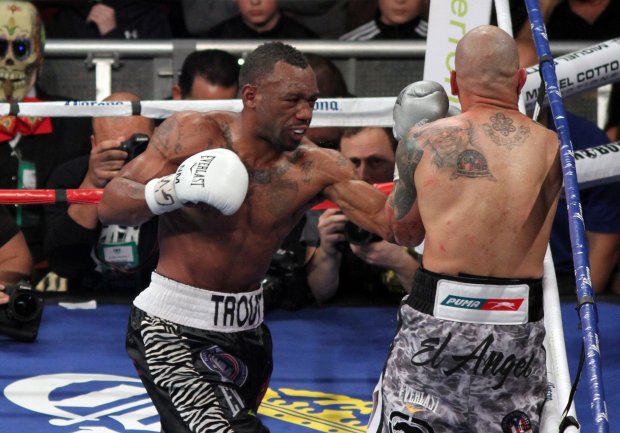 When: December 11, 2014
Where: Pechanga Resort & Casino, Temecula, California, USA
Division: light middleweight (154 lbs, 69.9 kg)
Result: Austin Trout defeated Luis Grajeda via Retirement at 3:00 in round 7)
In this fight, Trout wants to make a move for a world title shot as he get past the 27-year-old Grajeda on 12/11. However, Trout has lost 2 out of his last 3 fights, and looked poor in each of them. Will Trout can go back to a title contention? Or let the boxing council decide to a one more fight for Trout?
Trout has to fight with a desire to win and dig deep to draw up that inner reserve that champions have. I do not see that in Trout who seems to accept mediocrity and losing as a way of life. On the play by play, Trout looked good that he makes Grajeda quit on his stool after 7th round via retirement.
After the post fight interview, "They can't question my heart," Trout said. "I've never been one to turn down a fight, and I'm gonna try to fight and get that win regardless of the situation. ... I hope they do underestimate me. I think (the Dawson fight) will make them feel like they have the upper hand with me."
So, it's the heart of Trout when He fight his opponent. Trout will be in the title contention by next year if everything runs smoothly. What do you think? It is also good to see Austin Trout get a televised win under his belt. Good guy, takes on all comers. He'll get back into the 154-pound title mix.
After the main event, there are also exciting fights in the under card, the former light heavyweight champion Antonio Tarver facing heavyweight Jonathon Banks, light heavyweight Edwin Rodriguez battling Derrick Findley, heavyweight Dominic Breazeale facing Epifanio Mendoza, and former junior middleweight champion Sergio Mora taking on Dashon Johnson.
Watch the fight replay video source from youtube website.