Watch the Saul Alvarez vs James Kirkland Replay this May 9, 2015 at Alamodome, San Antonio, Texas, USA via HBO.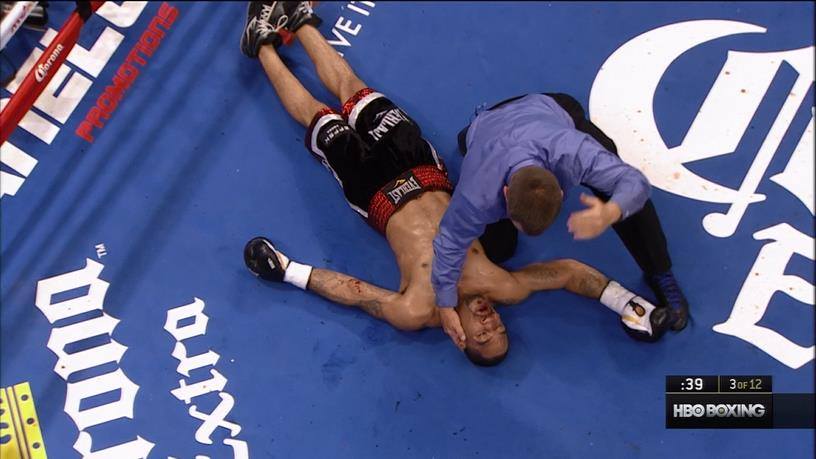 FIGHT UPDATE:
Saul Alvarez defeated James Kirkland via KO in round 3rd!
Match:
Saul Alvarez vs. James Kirkland.
Date:
May 9 , 2015.
Place:
Minute Maid Park, Houston, Texas, USA.
Full fight card:
Saul Alvarez vs. James Kirkland
Rodrigo Guerrero vs. Arturo Badillo
Joseph Diaz vs. Giovanni Delgado
Joshua Clottey vs. Jorge Silva
Former WBC and WBA super welterweight champion Canelo Alvarez (44-1-1, 31 KOs) battles with James "Mandingo Warrior" Kirkland (32-1, 28 KOs) tonight in the main event.
"Kirkland is a strong puncher so I have been sparring with southpaws to be prepared for May 9," Canelo said at a recent media workout. "I am strong too and I will also look to fight intelligently on Saturday." said Canelo.
"I know that I come with excitement, with what fight fans want to see," Kirkland said. "Knowing that my fans and supporters that are spending their hard earned money to come to this fight motivates me. I work just as hard as them when they are out there pushing that clock to make the money to come see the fight." Kirland added.
We have two ready to square off on Saturday night from Minute Maid Park in Houston, Texas, when Saul "Canelo" Alvarez (44-1-1, 31 KO) takes on James "Mandingo Warrior" Kirkland (32-1, 28 KO) in what could be a knockdown, drag-out fight.
The chances this one goes the distance seem slim. Kirkland's style is one that almost guarantees a stoppage, one way or the other. He's had only three fights in his career go the scheduled distance.
What's your fight analysis of the fight? Let's find it out.
Watch the fight replay here.