FIGHT UPDATE:
Donnie Nietes defeated Raul Garcia via 5th round TKO!
The Pinoy Pride 36 Live Update for - Donnie Nietes vs Raul Garcia Fight Full Video Replay Update is on the verge of pounding this May 28, 2016 for a world title in the main event of "Pinoy Pride 36: A Legend in the Making" Saturday night at the Saint La Salle University Stadium, Bacolod City, Negros Occidental.
EVENT:
Pinoy Pride 36
TITLE:
A Legend in the Making
MAIN EVENT:
Donnie Nietes vs Raul Garcia
TIME:
May 28, 2016
PLACE:
Bacolod City, Negros Occidental
FIGHTERS:
Donnie Nietes vs Raul Garcia
Arthur Villanueva vs Juan Jimenez
Milan Melindo vs Maximino Flores
Kevin Cataraja vs Chatchai Or Benjamas
Jonas Sultan vs Rommel Oliveros
Raul Yu vs Robert Ates
Kenneth Gentallan vs Lenmar Prescillas
Gerard Suico vs Reymund Rama
The long time reigning WBO defending junior flyweight champion Donnie 'Ahas' Nietes of the Philippines and his challenger Raul 'Rayito' Garcia of Mexico will battle tonight, Saturday, at the St. La Salle Coliseum, Bacolod City. Nietes is currently the longest reigning world champion in Philippine history while his opponent Garcia (38-3-1, 23KO) promised to go for a kill.
For Undercards, Arthur Villanueva tipped the scales at 117.5 lbs, while his opponent, Mexico's Juan "El Penita" Jimenez came in at the 118-pound limit for their co-headlining bout for the vacant WBO Asia Pacific Bantamweight Championship. While Milan "Milenyo" Melindo, who came in at 114.75 lbs, way over the 110-pound limit, while his opponent, late replacement Maximino "Max" Flores hit the mark at 110 lbs. Kevin Jake "KJ" Cataraja, weighed in at 112 lbs, as did his opponent, Thailand's Chatchai Or Benjamas.
A native of Murcia, Negros Occidental, the boxing champion last fought in Bacolod in 2011, incidentally against Raul's twin brother Ramon, who he beat by unanimous decision to win the WBO light flyweight title.
"Donnie Nietes is one of the Philippines' finest boxers in my opinion and is rightfully called a legend. He is a legend. He's the longest-reigning Filipino world champion and hasn't lost for over 10 years. It's amazing what he's accomplished so far and what he is still capable of late in his career. I've known Donnie for a while now and he's also a very humble guy. You can't ask for a better champion," one of the boxing analysts said.
The 33-year-old Raul is a former International Boxing Federation (IBF) and WBO minimumweight titleholder. He has won over the likes of former world title challengers Ronald Barrera, Sammy Gutierrez and Luis dela Rosa.
Raul has an impressive 38-3-1 record with 23 knockouts. All three of his losses are against world champions, two close split decisions against Pedro Guevara and Fuentes and unanimous decision defeat against Nkosinathi Joyi.
Judges for the Nietes-Garcia fight are Robert Hoyle of Las Vegas, Mike Fitzgerald of Wisconsin and Thailand's Pinit Praysab as judges while Celestino Ruiz of Chicago will be the third man inside the ring. ALA Promotions president Michael Aldeguer decided to stage the fight in Bacolod because of the appeal of fans from Negros Occidental since Nietes is a native of Murcia town which is on the outskirts of Bacolod City which is also the hometown of Games and Amusements Board chairman Ramon "Monju" Guanzon. So, what's next?
It will be an exciting match up for both fighters and also to those undercards. Don't miss to watch the Pinoy Pride 36 - Donnie Nietes vs Raul Garcia, now!
Pinoy Pride 36 - Donnie Nietes vs Raul Garcia Live Streaming
For you to watch Pinoy Pride 36 dubbed as "The Legend In The Making" - the fight will be watched here on Philippines local time only on ABS CBN Kapamilya this May 28, 2016 starts at 10:15 am in the morning and it will be aired on the Sunday, May 28, 2016 afternoon only at Studio 23 network. We do our best for possible real time live streaming of Pinoy Pride XXXIII Nietes vs Garcia Fight if there's available.
If you want to see Pinoy Pride 36 - Donnie Nietes vs Raul Garcia on live streaming or internet streaming via Philippine local TV, you can watch it also right here or on the other live TV streaming. For the Philippine TV broadcast, ABS-CBN will show the fights at 10:15 AM and Studio 23 at 4:00 PM Sunday.
Pinoy Pride 36 - Donnie Nietes vs Raul Garciao Fight Results
The fight results of Pinoy Pride 33 - Donnie Nietes vs Raul Garcia and other under card fights will be posted right here after the fight. Stay tuned. Or visit often. More updates.
Pinoy Pride 36 -Donnie Nietes vs Raul Garcia Video Replay
Our team will cover the Pinoy Pride 36 - Donnie Nietes vs Raul Garcia full fight video replay. You can also watch here but the video replay of Pinoy Pride 32: Duel in Dubai - Pagara Brothers will be delayed for hours or days depending to the availability but we will try our best to deliver the full fight reply.
This is all about the Pinoy Pride 36 live streaming, video replay and fight results for the Pinoy Pride 36 - Donnie Nietes vs Raul Garcia.
This update is about the Pinoy Pride 36 Live Streaming, Pinoy Pride XXXIII live streaming, Pinoy Pride live coverage, Pinoy Pride 36 round by round coverage as well as Pinoy Pride 36 fight results and Pinoy Pride 36 Fight Replay for Donnie Nietes vs Raul Garcia Live Streaming, Donnie Nietes vs Raul Garcia Fight Results and Donnie Nietes vs Raul Garcia Fight Replay. Also includes the under card of the Pinoy Pride 36 but mostly on Nietes vs Garcia as the main event - So the Nietes vs Garcia live streaming coverage, Nietes vs Garcia Fight replay, and Nietes vs Garcia fight results will be broadcasted by the Philippines Televised TY via ABS-CBN Kapamilya this Sunday of May 28, 2016.
Thank you for following the Pinoy Pride 36 Main Event - Donnie Nietes vs Raul Garcia Fight. Stay tuned for more updates.
LIVE UPDATES FROM PINOY PRIDE 36:
Nietes won by a 5th Rd TKO!

AND STILL YOUR WBO LIGHT FLYWEIGHT CHAMPION! Donnie "Ahas" Nietes!

Good 4th rd for Nietes, wobbled Garcia with another body shot.

Big 3rd rd for Nietes, dropped Garcia twice, both with body shots

Good R2 for Nietes, clipped Garcia with a couple of clean shots.

Feeling-out round for Nietes and Garcia in Rd1.

Coming up: Nietes vs. Garcia 12 rounds WBO worl light flyweight

What the heck?

Arthur Villanueva won the WBO AsPac bantamweight strap by a bizzare KO vs. Juan Jimenez. An accidental headbutt k.o. SHAME!

The impact of the collision had Jimenez hurt badly, still not getting up. Being checked out by Medics

Juan Jimenez is now being stretchered out of the arena.

There is serious concern for Juan Jimenez after he was rendered unconscious by in Round 4

Villanueva is down in round 2 on a big combo from the Mexican

Co-main event time: Arthur Villanueva vsJuan Jimenez up-next for bantamweight fight

Milan Melindo defeated Maximino Flores by unanimous decision

Milan Melindo has a nastycut by a headbutt from Maximino Floresa a close fight

Melindo came in at 114¾ lbs, way over 110lb limit, but fight pushed through because it wasn't a title bout.

Under card

Raul Yu defeate Robert Ates at 43 seconds of 2nd round.

Kj Cataraja defeated Thai Chatchai Or Benjamas at 14 seconds mark of 4th round.

Jonas Sultan defeated Romel Oliveros at 2:13 mark of the 5th rd.

Kenneth Gentallan defeated Lenmar Priscillas via UD

Reymund Rama defeatedGerald Suico by split decision.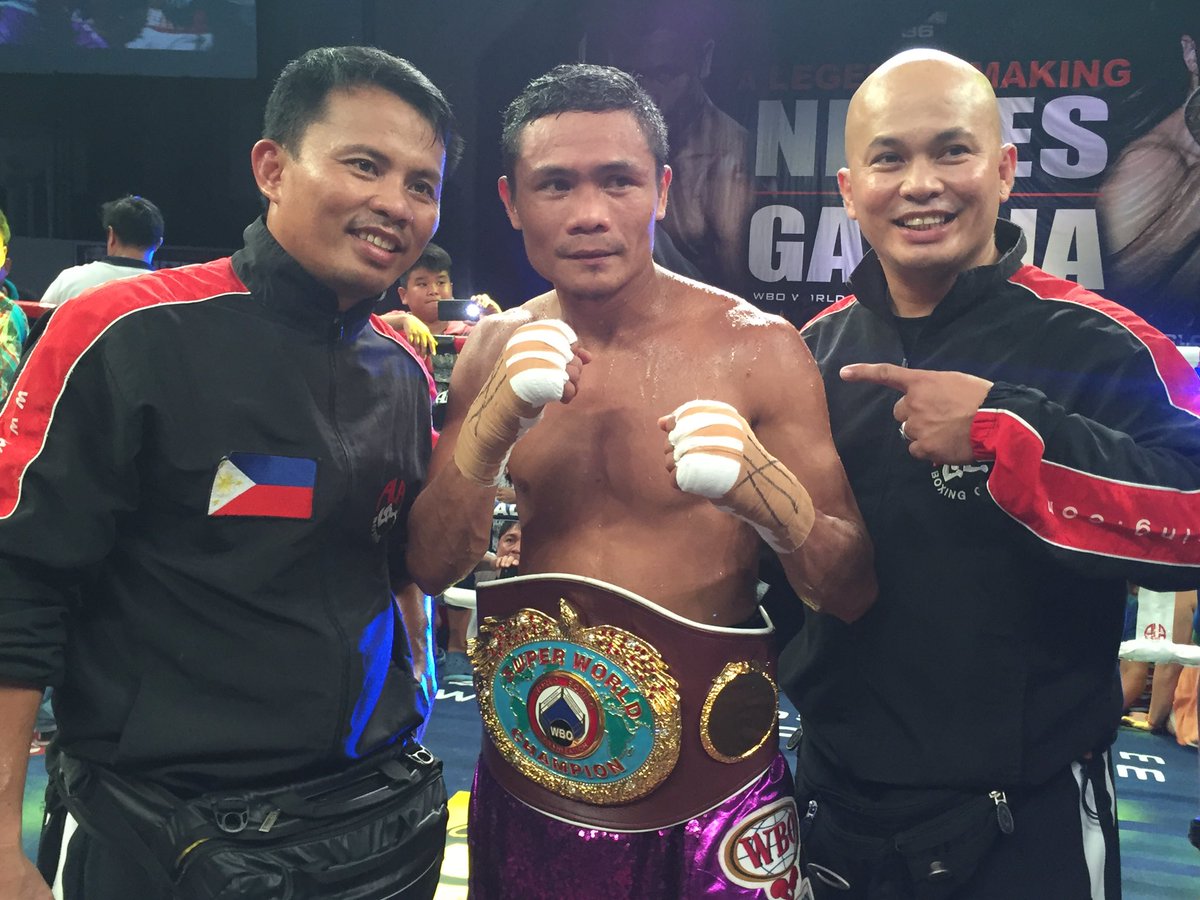 Pinoy Pride 36 - Nietes vs Garcia Video Fight Replay: